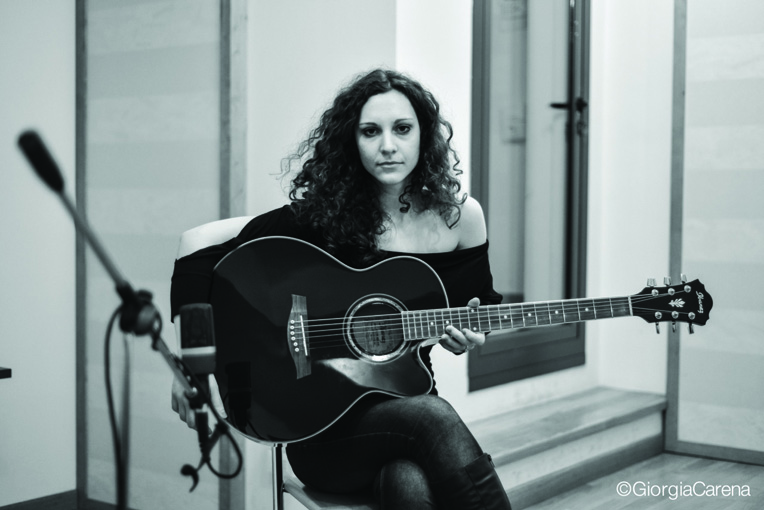 Nicole Stella
With a careful balance between acoustic music and rock, warmth and grit, Nicole Stella, with the help of jazz and rock guitarist Claudio Benvenuto, constantly challenges her artistic identity, crossing the boundaries of genres and languages. With her peculiar sound, on the edge between classic songwriting and rock, she has delivered three albums so far: New Day (2015), Something To Say (2017), and Canzoni Per Vivienne (2018). On stage, Nicole and Claudio take inspiration from their main influences (Joni Mitchell and Thin Lizzy) to deliver a personal "folk'n'roll" sound.
Born and raised in a small town on the shores of Lake Maggiore, Nicole's first encounter with music occurs at a very young age. Her grandpa, an amateur accordionist, introduces her to jazz and Brasilian tunes, often inviting her to sing in exciting, unknown languages. A Joan Baez vinyl record belonging to her dad does all the rest: not even an adolescent, Nicole develops a special love for American folk songwriters. By listening closely to Bob Dylan, Neil Young, Joni Mitchell, Leonard Cohen, she discovers unknown worlds, unshackling her abundant imagination and a natural inclination for music. Torn between her artistic, sometimes rebellious, flair and the down-to-earth, hard-working education she receives, Nicole spends her adolescence and her early 20's wisely making plans and unwisely altering them, unable to leave her crazy dreams behind.
After studying classical music at Conservatorio "Cantelli" in Novara, she shortly undertakes the academical path, graduating in Politics at the University of Pavia. The time spent in the small college town, however, results way more interesting during the singing lessons with one of the Italian authorities in Jazz and Brasilian music, Francesca Ajmar, or during the rehearsals and the performances as part of the duo Acoustic at Work, with guitarist Gianfranco Grande. Tired of small towns, Nicole embraces her nomadic impulse and moves to the buzzing, multi-cultural London, still unsure about her professional destiny. From 2013 to 2015, Nicole performs anywhere she can around the City as a solo folk singer, conjugating her dream of becoming a full-time musician to an actual full-time job as a bookshop manager. In 2015 she claims the two days in a recording studio offered by her boyfriend's father as a graduation gift. The result is an acoustic album, New Day, released in August 2015.
At this point, Nicole is too excited about her first experience in a real recording studio to get back to her day job, so she moves back to Italy and eventually becomes an independent singer and songwriter. In 2016 she collaborates with publisher SUR Edizioni and actor Alessandro Carnevale Pellino at a show on Joni Mitchell, presented at the prestigious festival JazzMI. She also finds a long-term artistic partnership with jazz guitarist Claudio Benvenuto, with whom she plays Buscadero Day, hours before Suzanne Vega takes the stage. In March 2017, Nicole releases her second album, Something To Say, and starts touring other Countries, such as Holland and the United States. The album gets a spot on Studio Europa, the official radio station of the Italian delegation of the European Commission. Encouraged by these positive responses, in 2018, Nicole enthusiastically accepts to work with guitarist and translator Massimo Ceravolo at a project on Vivienne Haigh-Wood. On March 8th, she releases Canzoni Per Vivienne, which gains the attention of many Italian critics. Her self-made music video of the single La Bugia enters the finals of the video contest organized by the nationally-acclaimed Biella Festival.
In her songs, Nicole often investigates social issues, such as the condition of women and the mental health stigma, the environmental problem and the "rat race", or the meaning of freedom in our society. Some other songs are an emotive push towards self-empowerment and self-liberation. The investigation of personal freedom often leads her to a fascination for the outsiders and the outcasts, as happened in songs such as Jimmy Dean, Houdini, Less and Less, A Letter. All these themes will be part of the recording project Nicole is planning to produce and that will be presented in 2020.