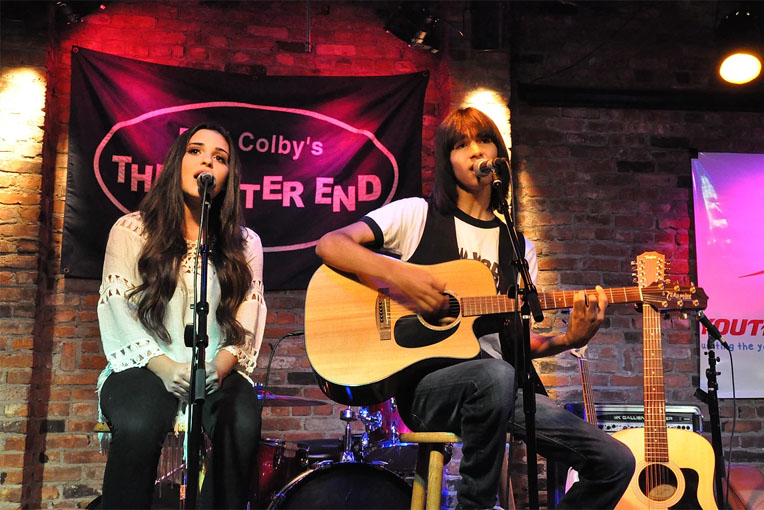 Lennon and Katie
Lennon and Katie are a talented acoustic guitar and piano duo from Long Island, NY.
Lennon and Katie are a talented acoustic guitar and piano duo from Long Island, NY. They perform for venues, happy hours, private parties, restaurants, music festivals, benefit shows, fundraisers, libraries, and events throughout the tri-state area. With a great library of hit songs from the 50's and beyond, from The Beatles to Rush and everything in between, their shows can cater to audiences of all ages. In addition, they perform original music and have been featured at The Bitter End, The Space in Westbury, The Hillside Recital Hall at LIU Post, The Montauk Music Festival and The Fest For Beatles Fans, to name a few.  Lennon is a prolific and accomplished songwriter. He is also a multi instrumentalist and singer who is currently recording an LP of original music which Katie will also be singing on. He has performed on the piano at iconic locations such as Carnegie Hall and Lincoln Center. Katie is a talented singer who Newsday recently named one of "Long Island's  Rising Stars." She has been featured in special segments for Verizon/Fios and has also performed at Duck Stadium, Chelsea Mansion, Brookhaven Amphitheatre, and more. Their band has also performed for many events and venues including, the Montauk Music Festival, The Great South Bay Festival, The NYCB Theater in Westbury, The Space in Westbury, The Paramount in Huntington, Mulcahy's Concert Hall, 89 North Music Hall, and The Emporium. They were invited to open for iconic artists and band's such as Randy Jackson, Zebra, Mike DelGuidice with Big Shot, and The Lords Of 52nd Street, who include members of Billy Joel's original band. Their self-titled EP, available on iTunes, was produced by iconic Grammy winning music producer, Jack Douglas.
Together, Lennon and Katie have created a perfect combination of music and harmonies that are beautiful, captivating and timeless.