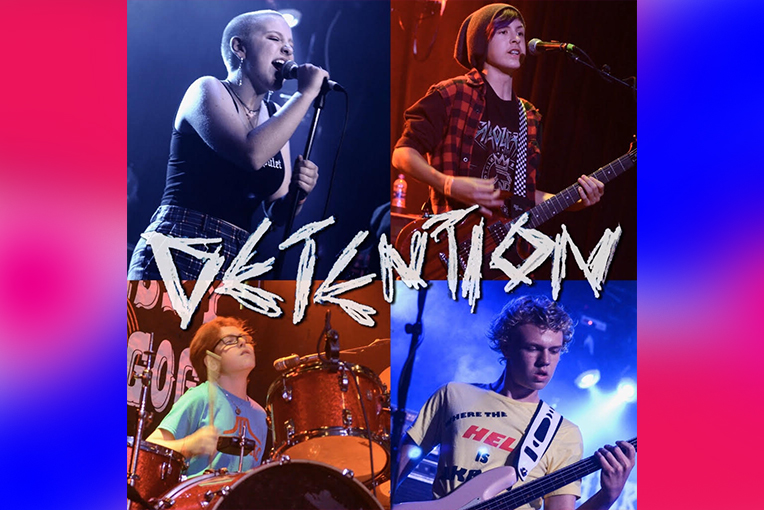 Detention
Detention is a young rock band from in, and around Akron, Ohio.
Detention is a young rock band from in, and around Akron, Ohio.
They've been together for years creating their own sound. There's an almost addictive, infectious energy in a band playing at the edge of its abilities, while staying fully committed to its potential.
The band recently won the 24th Annual Tri-C High School Rock Off at the Rock & Roll Hall of Fame in Cleveland, OH. About their winning performance, Barry Gabel, Senior VP for Live Nation said: "The band was tight, fun, exciting, and had the audience going crazy!" Detention has also performed a packed show at the world-famous Whisky a Go Go in Hollywood, CA, which led to a showcase performance during the (postponed) SXSW Music Festival in Austin, TX.
The band regularly packs shows around Northeast Ohio, and is starting to create a regional footprint – driven by consistent radio play of four self-released singles, "Devilberries", "Emphatic YES!", "In Reverse", and their latest single "Thermo".
Detention has performed on-air for a sold-out live performance for "Studio Session C" on WAPS 91.3-FM The Summit and as featured guests on "The Really Big Show" with Tony Rizzo on WKNR ESPN Radio, Cleveland. Rizzo heard their version of "Helter Skelter" and wouldn't stop talking about "these kids from Akron".
Detention's music is a mash-up of its collective influences, which range from Foo Fighters to Twenty One Pilots, Green Day to Ani DiFranco and Billie Eilish. The result is part teenage angst and humor and part life growing up in the post-industrial Midwest. In performing "Dead Malls", singer Elliott Carter sings: "Look around, it's falling down / our London bridge, this broken town / where ivy crawls inside these walls / 'til kingdom calls, burn it down."
Founding members Fritz Dannemiller (bass) and Luke Konopka (drums) lock into heavy, pulsing grooves on tracks like "Emphatic YES!" and "Thermo", while Evan Cox adds textured guitars, with pops of frenetic, shredding solos. The band's high-energy spin on covers like Devo's "Uncontrollable Urge" and The Beatles' "Helter Skelter" have also received wide praise and radio attention.